More Postcards from Southern California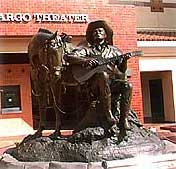 The Autry Museum of Western Heritage
is a terrific place to spend the afternoon in Los Angeles, especially with three curious homeschooled kids who think cowboys and hands-on learning activities are fun. My kids panned for gold, tried on Western gear, and played Chinese restaurant as well as having the opportunity to view a wide variety of Western memorabilia, art and displays. If we were locals we would come back frequently.
We also went camping for a few days in
Sycamore Canyon, Pt. Mugu State Park
. What a beautiful place although so much colder than this Northeast girl expected. I knew that the Pacific is so icy that unless you're a surfer in a wet suit, there is no way you can swim, but the freezing winds and cold nights were like autumn in New England. But the whole family was together and the cousins played for hours and hours as the adults chatted, cooked, napped and ate.
I am more relaxed than I have been in a long time and am enjoying a deep Sabbath rest and expect to be renewed to face the daily duties of my life when we return. We still have a week to go. Let's hear it for my husband who doesn't believe in short vacations!
Blessings,
Micah Girl